Flooring Tips & Tricks
How to Remove Candy or Sugar from Carpeting
Candy or sugar, no matter how sweet, may leave a bitter impression on your carpeting. Candy and sugar can be easily removed if you know how to do it properly. Here is some advice that Roseville Carpet One thinks will definitely help you out of this sticky mess. Check it out and you will see that removing candy and sugar from carpet is not a big chore.
First, be aware that removing a stain of this kind should be done as soon as it occurs. Carpet cleaning advise – to act as fast as possible. That is the only way to remove the stain completely and prevent it from becoming permanent.
Supplies
To clean sugar or candy from carpeted flooring, you need a few common household products. These include:
Cotton Cloth
Dull Knife or Spoon
Cleaning Solvent
Clean Towel
Paper Towels
Method for Cleaning
SCRAPE

or blot up excess spill

APPLY

detergent solution onto a damp cloth

BLOT

don't rub

APPLY

white vinegar (undiluted) using a damp towel

BLOT

don't rub

APPLY

water with a damp sponge

BLOT

to finish with a weighted pad of paper towels
Do not use hot water as this can set the stains that are left behind from the sugar or candy. Cold water will dissolve the candy without increasing the stain.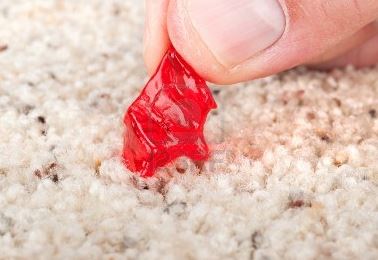 When hard candy or sugar dries on your carpeting, it bonds with the carpet fibers. Begin by moistening the candy/sugar area with cold water – it may take a while. This will dissolve the sugars that are bonding it to the carpet. Once it is dissolved enough to loosen, pull the large pieces of candy out of the carpet. If needed, a dull knife or spoon can be used to scrape the candy off of the fibers. Once the candy is removed, the remaining stain can be treated with a few simple steps.
Get a cotton cloth and blot the area. Be gentle to avoid spreading the stain. You need to remove as much of the sugar or candy as possible to make the stain removal easier. The next thing to do is to apply some cleaner. You can use a commercial one. It will be effective and you will be able to deal with the stain quickly. But if you don't want to spend money on a commercial cleaner, you can use a household product.
Vinegar is a great household product to use and will do a nice job for sure. Just blot the area with a cloth moistened with white vinegar if the stain persists. Apply it to the stain and let it stay for a while. The vinegar will dissolve the stain and make it easy to scrub away.
Once the stain is removed, blot the area with a clean cloth moistened with plain water to rinse. Blot with a dry cloth to remove any excess moisture. Allow the area to dry completely.
Click here to view more Flooring Tips & Tricks >
Roseville Carpet One is the premier provider of carpet, hardwood floors, vinyl, and other flooring options; providing all major brands of flooring complete with professional installation at affordable prices. Visit our showroom or click to set up a FREE estimate today >