Flooring Tips & Tricks
Hardwood Floor Care
Hardwood floors are a major investment and they take such a beating. We walk all over them, track dirt onto them, spill food on them and still we want them to look perfect at the end of the day. With regular care and cleaning, the beauty of your hardwood floors will last and your investment will be safe for years to come.
Roseville Carpet One has provided this article to supply you with easy maintenance instructions and helpful tips on how to prevent scratches, dirt building up, and what to do when problems do occur.
Maintenance Instructions & Helpful Tips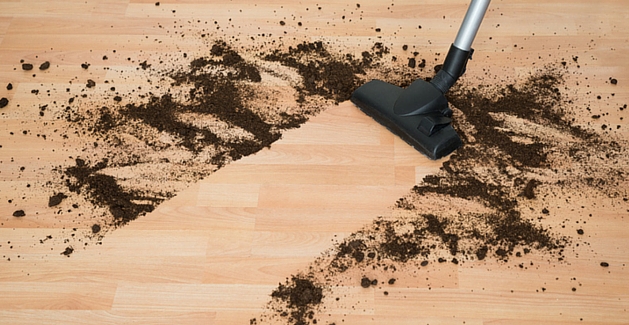 Vacuum your floor every week.

Fine grit and dust is just like sandpaper and will slowly wear through your wood floor's finish. So a good vacuuming protects the finish as well as keeps up its appearance.
Wipe up spills immediately.

Make sure you wipe up spills immediately with a slightly dampened towel.
Watch the hairspray and the furniture polish.

Both of them can cloud your floor's finish. Wipe them up immediately with a damp cloth. For a more thorough cleanup, you can spray the area with non-ammonia window cleaner and immediately wipe it up.
Keep out the rain.

Water can not only ruin the finish on a hardwood floor but can penetrate deep into the wood and stain it. Immediately wipe up any water spill on your hardwood floor.
Remove residue with no-wax wood floor cleaner.

Wipe up spills and dirt immediately; then use the cleaner to remove the residue. Dirt can damage the finish or get ground in. Liquids can damage the finish or stain the floor.
Use appropriate waxes and restorers.

You can rejuvenate a wax finish with more wax. But never use wax on a surface finish such as shellac, varnish, or polyurethane. It not only makes the floor far too slippery, it also interferes with subsequent finishes. If the finish is polyurethane, use a polish made for polyurethane. If it's another type of surface finish, get a general-purpose floor restorer and test the restorer on an inconspicuous area to make sure it won't peel off.
Use doormats and area rugs. While vacuuming and spot-cleaning are great, keeping the dirt out in the first place is even better. Protect high-traffic zones with area rugs. Throw rugs are the easiest way to reduce wear on your hardwood floors.
Additional Tips
Do not use vinyl or tile cleaning products on wood floors.
Do not over-wax a wood floor. If a wax floor dulls, try buffing instead. Avoid wax buildup under furniture and other light traffic areas by applying wax in these spots every other waxing session.
Put felt protectors under the legs of furniture to prevent scuffing and scratching.
Avoid walking on your wood floors with sports cleats and high heels.
When moving heavy furniture, do not slide it on wood flooring. It is best to pick up the furniture to move it and to prevent scratches.
Proper cleaning and maintenance of your hardwood flooring will take some time, but with the right tools and techniques, you'll be able to keep your floors looking their best. Remember, the time you spend maintaining your floors is nothing compared to the amount of time you'll spend enjoying them. Click here to view more Flooring Tips & Tricks >
Roseville Carpet One is the premier provider of carpet, hardwood floors, vinyl, and other flooring options; providing all major brands of flooring complete with professional installation at affordable prices. Visit our showroom or click to set up a FREE estimate today >